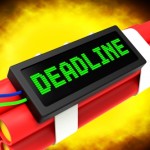 February is always the busiest season for my advisory practice, that's because the RRSP deadline is the first 60 days into the new year. If you are planning to make a contribution, remember the RRSP deadline is March 3rd, 2014. You could still deposit into your RRSP afterward, but to make that contribution tax deductible for the tax year 2013, you must do so before the stated deadline.
So how much could you contribute in your RRSP account?
It is 18% of your earned income for the previous year. Since we're planning for the tax year 2013, the income is the amount earned in 2012. For example, if your earned income is $100,000 for 2012, then you may contribute 18% of $100,000 which is $18,000 into your RRSP. However, if you made $1,000,000, it doesn't mean you could contribute $180,000, that's because the  maximum contribution for the tax year 2013 is $23,820. RRSP contribution rooms may be carried forward, if you have any unused room from the previous years, you may also contribute into that. If you are a member of a company's pension plan, this may reduce your RRSP contribution room, so make sure you take that into consideration.
An easier way to figure out your
RRSP contribution room
is to refer to your Notice of Assessment, the statement you got back from CRA when you filed your tax for the year 2012. If you lost the statement, you may call the CRA (
1-800-959-8281
) to inquire about your RRSP contribution room.
So don't wait until the last minute to make your contribution! If you need help in planning for your RRSP, feel free to
contact me
.
[note] Click Here To Download Your RRSP Guide [/note]
Disclaimer: Image Courtesy Stuart Miles/FreeDigitialPhotos.net