The success of every business is not measured by how much they own, rather on their willingness to share with other in needs. I strongly believe every business has the responsibility in contributing back to our community. For those who have attended the 1ofAkind business networking events that I've been hosting, you might remember that the proceeds we collected in each event this year are going toward helping our community. This year, we are dedicated in raising funds for AdventurePlace, a family center for children with special needs.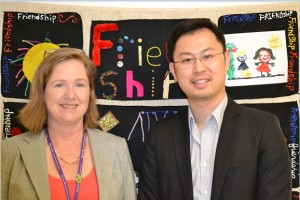 Year to date, we have already collected $911.48, which is very close to our $1,000 target for this year.
Once again, thank you for all your generous support in making a change to our community.
(Photo was taken with Debbie Modrovsky, Business Manager at AdventurePlace.)
(For more details about this community, please visit: http://www.adventureplace.ca)